How To Make A Mushroom Tincture
The Double Extraction Method Explained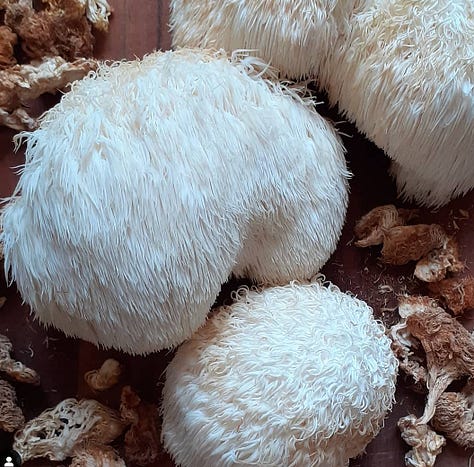 In all my time spent working as a herbalist, I've received some pretty weird and wonderful things in the post. Some of my favourite items include a bag of freshly picked sea buckthorn berries (juice included,) and a parcel containing Solomon's Seal roots.
However, just about the most wonderful thing to ever surreptitiously arrive on my doorstep was a six-foot-four stranger wielding a huge box of gourmet mushrooms. This was the first of many encounters with Alec (or as we fondly call him - The Mushroom Man.)
Before lockdown, Alec had been a specialist grower, supplying his exotic wares to high-end restaurants in the area. Suddenly finding himself without any customers, he (quite rightly!) thought the local herbalist might be able to make good use of them.
Although quite a few of his delicacies ended up in some rather interesting stir fries, (we feasted like kings for an entire week!) I decided this would be the perfect opportunity to make an experimental tincture from the glut of Lion's mane mushrooms (Hericium erinaceus,) which having something akin to a fishy flavour, weren't really to my palate. Having read about the medicinal properties of this beautiful fungi, I was keen to have a go at making some immune boosting tincture for my dispensary.
Alec the Mushroom Man with a rather large box of Coral Tooth mushrooms.
There's a lot of mystery surrounding mushroom medicine. Most people (myself included,) find it a confusing topic to navigate.
Mycologists (mushroom experts,) often disagree with vigour about everything from how a species should be named, to its classification. This is compounded by a general lack of understanding and secrecy around the use of traditional preparations used in countries like China, Korea and Russia, who have for aeons included mushrooms among their vast pharmacopeia of plant medicines.
Medicinal mushrooms have an established history of use in traditional and ancient therapies, but here in the West, we're a little late to the party. Although contemporary research has validated and documented much of this ancient knowledge, we still have rather a lot of catching up to do.
It's been estimated that the number of mushroom species on the planet is somewhere in the region of one hundred and fifty thousand, yet perhaps only about ten percent of these are known to science. We've barely scratched the surface when it comes to the healing potential of mushrooms.
Keep reading with a 7-day free trial
Subscribe to The Herbalist's Diary to keep reading this post and get 7 days of free access to the full post archives.